You cannot add "Egyptian Starcluster (Pentas) Flower with Wormwood Leaves Ring" to the cart because the product is out of stock.
Sale!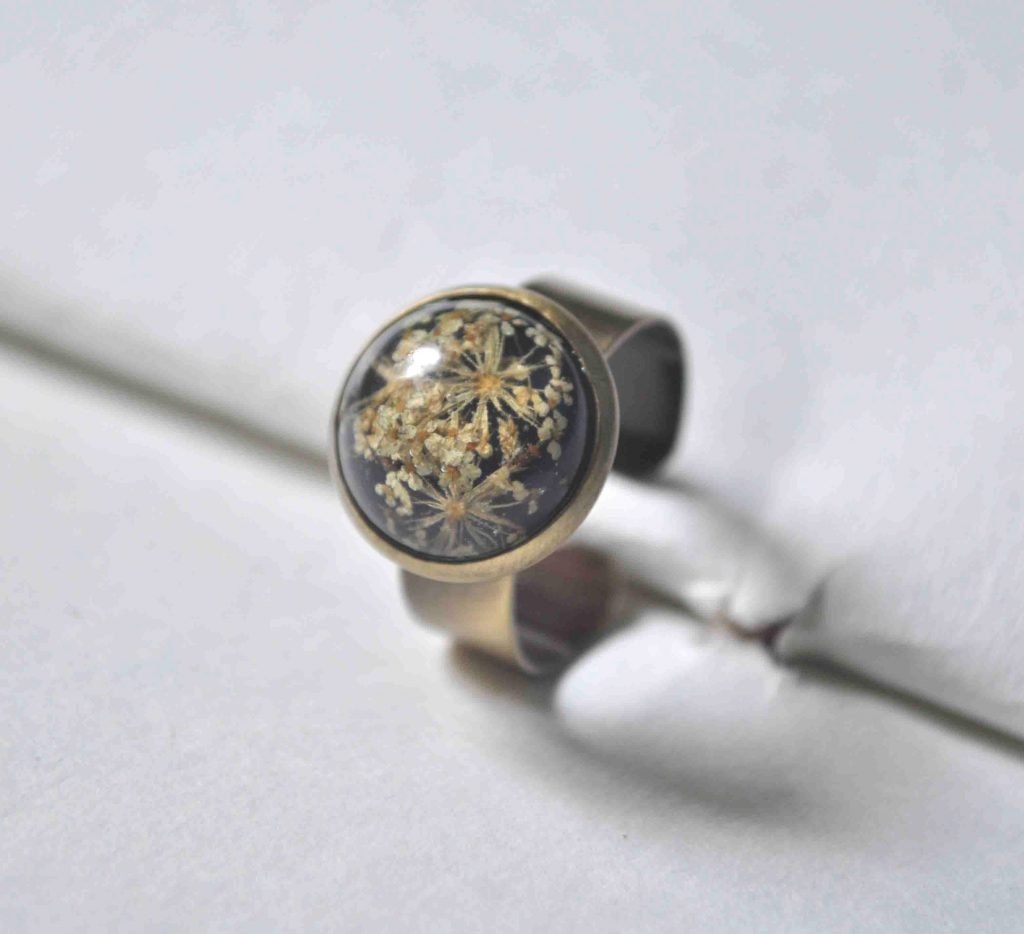 White Queen Anne's Lace on Black banded adjustable ring
Save ₹415.00
Legend has it that Queen Anne, the wife of King James I, was challenged by her friends to create lace as beautiful as a flower. While making the lace, she pricked her finger, and it?s said that the purple-red flower in the center of Queen Anne?s Lace represents a droplet of her blood. Also called Wild Carrot (since Queen Anne?s Lace is the wild progenitor of today?s carrot), Bishop?s Lace or Bird?s Nest (for the nest-like appearance of the bright white and rounded flower in full bloom), in the language of flowers, Queen Anne?s Lace represents sanctuary.
Out of stock
Specification
Given the fast paced life we all lead, it feels good to sometimes re-connect with that small part of us that we overlook on an everyday basis. This piece of jewellery is an attempt to reach back into what we?ve missed out on.
Look into the details of the botanical?s veins, lose yourself in the beauty encapsulated in this piece and reconnect with that little universe Within.
Disclaimer:
? This is a handcrafted product and may have slight irregularities or imperfections such as bubbles, bumps, dents or dots. These irregularities are the result of the human involvement in the process and add to the finished products charm while ensuring you have a one-of-a-kind piece.
? The brass, copper metal is lead and cadmium free, which means no allergies, or green marks.
? The flowers are naturally dried and preserved to last for eternity.
? Colours of the flowers and leaves will not fade. They have been dried completely, so they will not wilt.
? The Botanicals used in our pieces are sourced ethically. We only use fallen flowers and leaves.
? All the pieces listed are 100% Handmade. We do not buy or re-sell. We believe in the Make in India scheme.
? The image is only representative of the actual piece you will receive as two flowers are NEVER the same shape, size or colour. But do not worry. There will only be mild differences.
Description
Reviews (0)