Sale!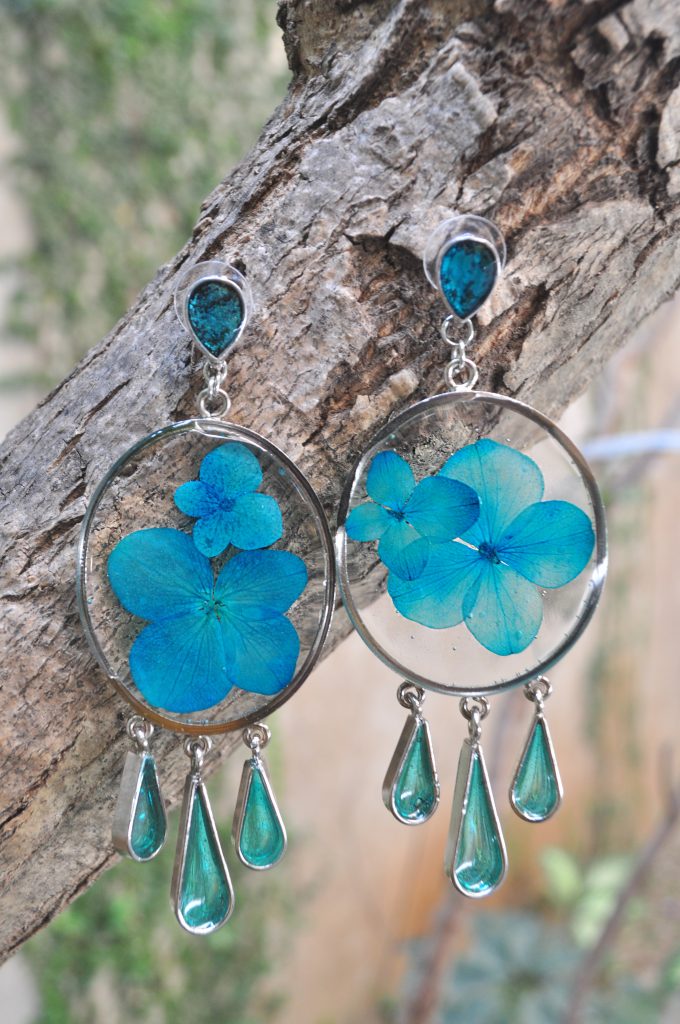 WATER – Earrings – Naturally Coloured Enamel – Hydrangea Single Flower
Save ₹1,575.00
Some of you might have seen the blue tea doing its rounds where you squeeze in some lime in your tea and it turns pink! Its prevalently called the Blue Tea and is said to have a tonne of health benefits. ~
Few months ago, I came across this blue tea and realized I had these flowers blooming in my own garden. So, I gathered a bunch of them and set them out to dry. Madras known for its fervent heat, dried them out in a day, but I had forgotten about the whole mission. When I went back to check on it, I saw the cloth in which I set them to dry sport patches of dark and light blue.
The flowers had dried to crisp. I rolled the petals between my fingers and felt them turn to fine powder. I collected this in a little pill box and ran to the studio to test my theory. ~
I used the resin and hardener with the thickest viscosity in a small palette, mixed some of the peapod powder and mixed it for over 15 mins straight. You see the little drops of blue in this earring – that's the peapod pigment! It's uneven but that is probably because the ~
This led me to wonder what other flower with vibrant colours could lend itself to natural colouring as opposed to the synthetic ones that aren't very eco-friendly.
Out of stock
Specification
| | |
| --- | --- |
| SHIPPING INFO | Dispatched in 5 working days |
| MATERIALS | brass, bioresin, sundried flowers/leaves |
| SALE DISCLAIMER | Piece may have tiny bubbles caused by the petals. |
| CARE FOR YOUR FLOWERS | Spot-Cleaning only. Store in pouch provided. Keep away from fragrance, water and direct sunlight. |
| RETURN POLICY | No Returns | Only Exchange | Please read return policy |
| WEIGHT | 26.2 gms |
| EARRING SIZE |  4.1 cms |
| EARRING LENGTH |   7 cms |
Disclaimer:
This is a handcrafted product and may have slight irregularities or imperfections such as bubbles, bumps, dents or dots. These irregularities are the result of the human involvement in the process and add to the finished products charm while ensuring you have a one-of-a-kind piece.
The brass, copper metal is lead and cadmium free, which means no allergies, or green marks.
The flowers are naturally dried and preserved to last for eternity.
Colours of the flowers and leaves will not fade. They have been dried completely, so they will not wilt.
The Botanicals used in our pieces are sourced ethically. We only use fallen flowers and leaves.
All the pieces listed are 100% Handmade. We do not buy or re-sell. We believe in the Make in India
The image is only representative of the actual piece you will receive as two flowers are NEVER the same shape, size or colour. But do not worry. There will only be mild differences.
Please buy ONLY if you are okay with the above as exchanges and returns on SALE items will not be entertained.
Description
Reviews (0)