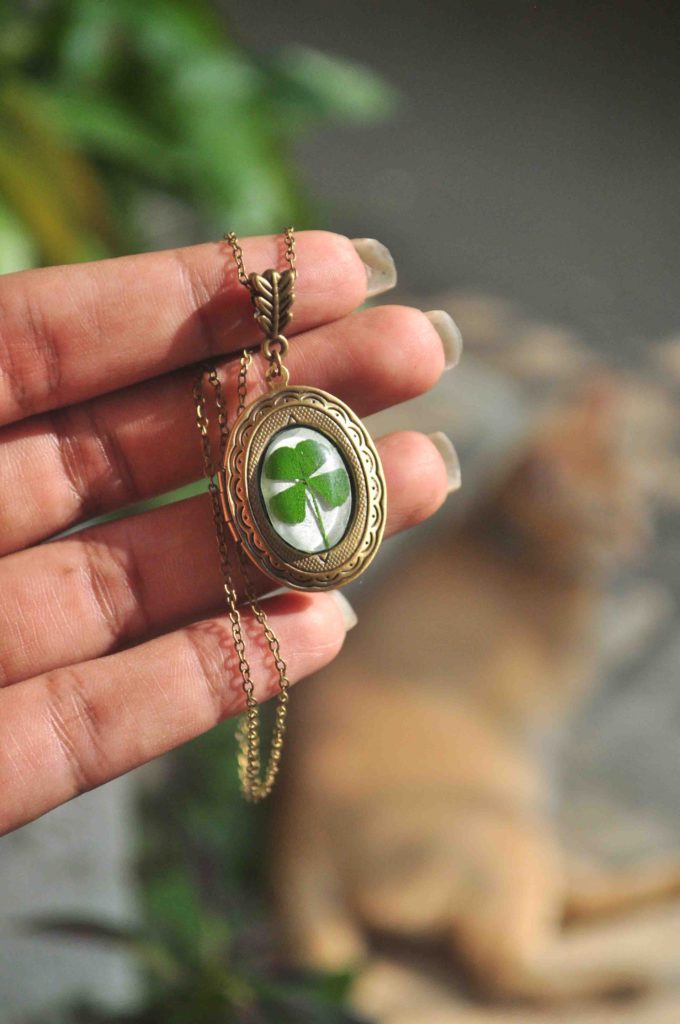 Vintage Memory Locket with Clover – Oval Small
Today, privacy seems like a rather large privilege does it not? To want to hold something special and private to us, close to us at all times, without letting the world know about it is a bit of a task sometimes. For some, it's as simple as a tattoo, a graphic tee or mug. But for others, it's a private memory, a stolen moment that we don't want revealed.
So we came up with this concept of Concealed Memory Lockets. This Locket lets you store, paste or place anything – be it a picture of yourself or someone else or of a pet, a place, a flower, a stone, a small quote from a fortune cookie or a book, letter or just an inspirational quote that motivates you. Even a small tuft of fur, a dried leaf, a small stone – absolutely anything that makes you feel better goes into this locket.
Specification
| | |
| --- | --- |
| SHIPPING INFO | Dispatched in 5 business days |
| MATERIALS | Copper, epoxy resin, sundried flowers/leaves |
| CLOSURE/HARDWARE TYPE |  Openable locket with Hinge and Lock system |
| CARE FOR YOUR FLOWERS | Spot-Cleaning only. Store in pouch provided. Keep away from fragrance, water and direct sunlight. |
| RETURN POLICY | No Returns | Only Exchange | Please read return policy |
| WEIGHT |  9 gms |
| MEASUREMENT |  3 x 2 cms  | 28 inches Chain |
Disclaimer:
This is a handcrafted product and may have slight irregularities or imperfections such as bubbles, bumps, dents or dots.
These irregularities are the result of the human involvement in the process and add to the finished products charm while ensuring you have a one-of-a-kind piece.
The brass, copper metal is lead and cadmium free, which means no allergies, or green marks.
The flowers are naturally dried and preserved to last for eternity.
Colours of the flowers and leaves will not fade. They have been dried completely, so they will not wilt.
The Botanicals used in our pieces are sourced ethically. We only use fallen flowers and leaves.
All the pieces listed are 100% Handmade. We do not buy or re-sell. We believe in the Make in India
The image is only representative of the actual piece you will receive as two flowers are NEVER the same shape, size or colour. But do not worry. There will only be mild differences.
Description
Reviews (0)