Sale!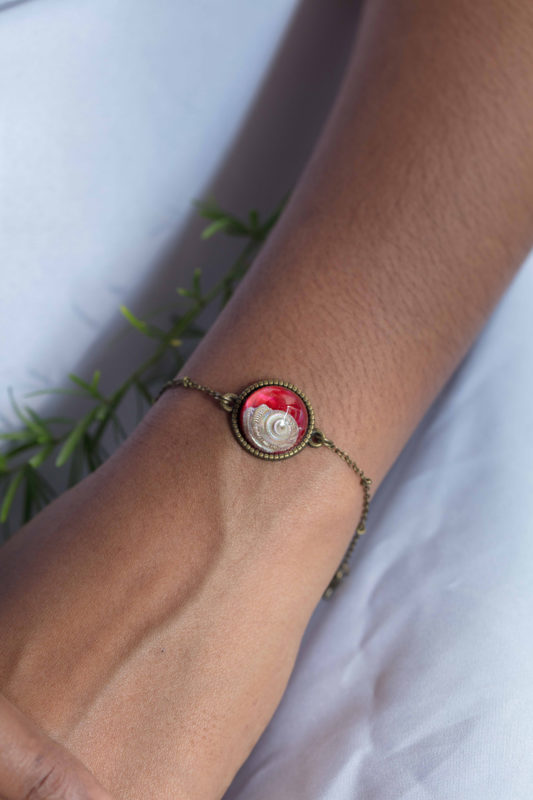 Seashell Bracelets – One of a Kind
₹450.00 ₹475.00Save ₹475.00
5 years ago we worked with seashell artisans from the coastlines of Kanyakumari. We worked on making their craft more environmentally viable, more profitable and more sustainable for them. Which is when I discovered how beautiful seashells really are. I call seashells the flowers of the Marine world. The incredible way they're formed, the patterns on them, the colours and shapes – incredible.
We have been wanting to revisit a whole range of seashell collection with our Self Help Groups in Kanyakumari – and in Feb of 2021, we finally did. It took almost a year but look at it. This wasn't made in our studio – these were made by women in rural areas who had NO idea on how to handle any of the materials provided.
We are shaping a team in Kanyakumari to bring you more such treasures. First of MANY to come.
Specification
| | |
| --- | --- |
| SHIPPING INFO | Dispatched in 5 business days |
| MATERIALS | brass, bioresin, seashells |
| SALE DISCLAIMER | clover is a delicate leaf and may differ piece to piece |
| CARE FOR YOUR FLOWERS | Spot-Cleaning only. Store in pouch provided. Keep away from fragrance, water and direct sunlight. |
| RETURN POLICY | No Returns | Only Exchange | Please read return policy |
| WEIGHT | 10-12 gms |
| BRACELET WIDTH |  2 Cm Round |
| BRACELET LENGTH |   11 cms + 5 cms extension chain |
Disclaimer:
This is a handcrafted product and may have slight irregularities or imperfections such as bubbles, bumps, dents or dots.
These irregularities are the result of the human involvement in the process and add to the finished products charm while ensuring you have a one-of-a-kind piece.
The brass, copper metal is lead and cadmium free, which means no allergies, or green marks.
The flowers are naturally dried and preserved to last for eternity.
Colours of the flowers and leaves will not fade. They have been dried completely, so they will not wilt.
The Botanicals used in our pieces are sourced ethically. We only use fallen flowers and leaves.
All the pieces listed are 100% Handmade. We do not buy or re-sell. We believe in the Make in India
The image is only representative of the actual piece you will receive as two flowers are NEVER the same shape, size or colour. But do not worry. There will only be mild differences.
SALE : This product is on sale because it is part of an older collection. The piece may have tiny scratches on the surface but does not deter the beauty of the botanical held within.
Please buy ONLY if you are okay with the above as exchanges and returns on SALE items will not be entertained.
Description
| | |
| --- | --- |
| Seashells | Clam Shell, Mollusk Spiral, Shivs Eye, Littorina, Nacre Mother of Pearl |
Reviews (0)