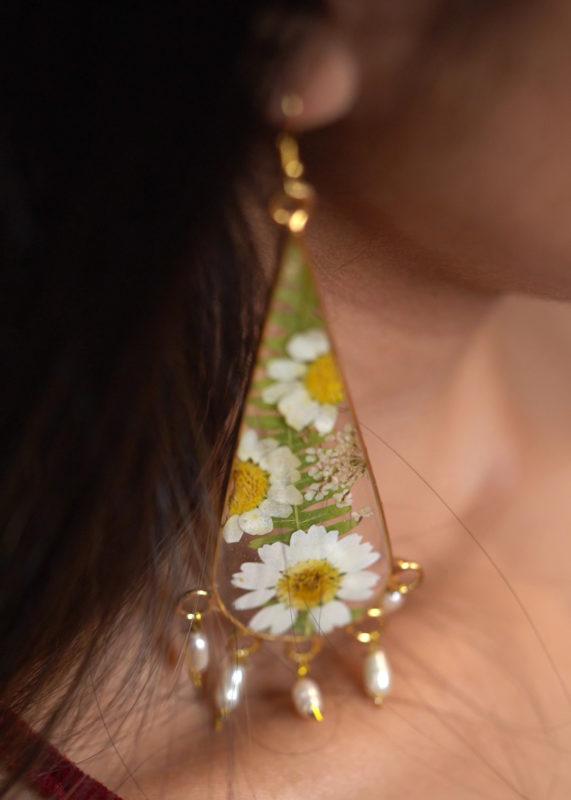 Royal House Pearl Shoulder Brusher Earrings
₹2,049.00
Officially the Worlds olden gem, pearls have been revered since long before written history
. It was found by fishermen who were looking for food along the seashore. Because of their Nacre shine and iridescent magical quality, pearls fast became the most coveted gemstone of the Nobility, rich and ruling class. It was so precious that Julius Ceaser passed a law limiting the wearing of pearls only to the ruling classes.
The nobility of Europe were hungry for power and wealth and for any opportunity to dis- play it, surrounding themselves with extravagant jewellery and ornaments. It was during this opulent era that pearls and pearl jewellery became extremely popular throughout Europe.
Because pearls symbolised innocence and purity, it was given to the brides to wear on her wedding night.
3 in stock
Specification
| | |
| --- | --- |
| SHIPPING INFO | Dispatched in 6 business days |
| MATERIALS |  Brass plated gold, resin, dried flowers. |
| FLOWER SYMBOLISM |  Sanctuary |
| CARE FOR YOUR FLOWERS | Spot-Cleaning only. Store in pouch/box provided. Keep away from fragrance, water and direct sunlight. |
| RETURN POLICY | No Returns | Only Exchange | Please read return policy |
| WEIGHT |   10 gms |
| MEASUREMENT IN cms |   9 cm |
| EARRING DIMENSION |   3 cms |
Disclaimer:
This is a handcrafted product and may have slight irregularities or imperfections such as bubbles, bumps, dents or dots.
These irregularities are the result of the human involvement in the process and add to the finished products charm while ensuring you have a one-of-a-kind piece.
The brass, copper metal is lead and cadmium free, which means no allergies, or green marks.
We do not offer Refunds and Exchanges on Sale Items.
The flowers are naturally dried and preserved to last for eternity.
Colours of the flowers and leaves will not fade. They have been dried completely, so they will not wilt.
The Botanicals used in our pieces are sourced ethically. We only use fallen flowers and leaves.
All the pieces listed are 100% Handmade. We do not buy or re-sell. We believe in the Make in India
The image is only representative of the actual piece you will receive as two flowers are NEVER the same shape, size or colour.
Description
Reviews (0)