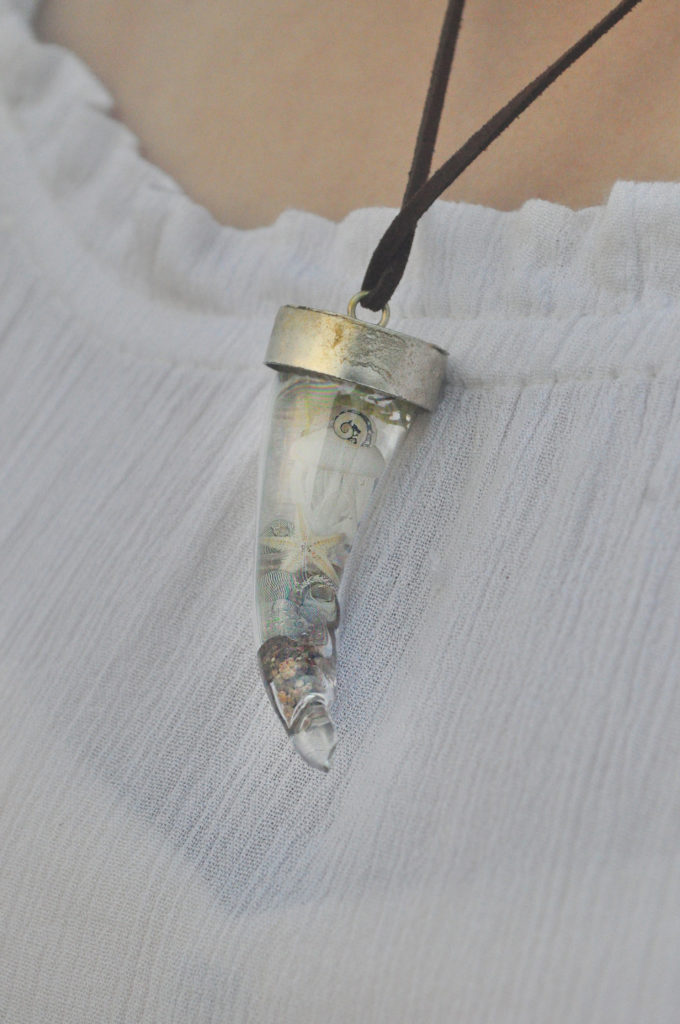 Marina Unisex Necklace with 3D Printed Jelly Fish, Starfish, Seashells, Sea Moss Encased in Blown Glass Horn Tube
₹900.00
The ocean has always been a source of comfort for those who crave the vastness and unfathomable nature of the sea.
It radiates power and comfort at the same time.. And as animals of wonder, aren't we all attracted to something powerful that comforts us?
This collection that I call "MARINA" is named after Madras' Marina which is also the world's longest beach. The collection is an ode to the Oceans. The reefs, marine life, the underwater shrooms and the whole ecosystem that is encompassed by this vast blue that we all go to for joy, peace and silence.
But here is the real reason I believe this collection is special. It's the first of the many initiatives that Alankaara is involved in. This collection was conceived in the coasts of Rameshwaram. With the support of PTSLP (post tsunami sustainable livelihood program), we were able to meet Self Help Groups where I sat with women hailing from various districts and taught them the basics running a business. While I struggled to explain my learnings to that of a rural ecosystem, I realised very quickly that they can grasp that much and more.
The seashells, sea moss and dried starfish are all from the coasts of Rameshwaram. The jellyfish are 3D printed. The seahorse is a ceramic moulded piece from an extremely talented miniaturist.
Together, they form a little Ocean for you to wear.
4 in stock
Specification
| | |
| --- | --- |
| SHIPPING INFO | Dispatched in 6 business days |
| MATERIALS |  Brass Metal, Epoxy Resin, 3D Printed Jelly Fish, Starfish, Ceramic Seahorse, Seashells, Sea Moss and Aquatic Background |
|  SPIRITUAL SYMBOLISM |  The Vastness of the Ocean |
| CARE FOR YOUR FLOWERS | Spot-Cleaning only. Store in pouch provided. Keep away from fragrance, water and direct sunlight, do not drop. |
| RETURN POLICY | No Returns | Only Exchange | Please read return policy |
| WEIGHT |  12 gms |
| MEASUREMENT |   4.5 x 3 cms Diameter |
| NECKLACE LENGTH |  18 inches. Please send us an email if you'd like a brown suede cord or a metal chain |
Disclaimer:
This is a handcrafted product and may have slight irregularities or imperfections such as bubbles, bumps, dents or dots.
These irregularities are the result of the human involvement in the process and add to the finished products charm while ensuring you have a one-of-a-kind piece.
The brass, copper metal is lead and cadmium free, which means no allergies, or green marks.
The flowers are naturally dried and preserved to last for eternity.
Colours of the flowers and leaves will not fade. They have been dried completely, so they will not wilt.
The Botanicals used in our pieces are sourced ethically. We only use fallen flowers and leaves.
All the pieces listed are 100% Handmade. We do not buy or re-sell. We believe in the Make in India
The image is only representative of the actual piece you will receive as two flowers are NEVER the same shape, size or colour. But do not worry. There will only be mild differences.
Description
Reviews (0)