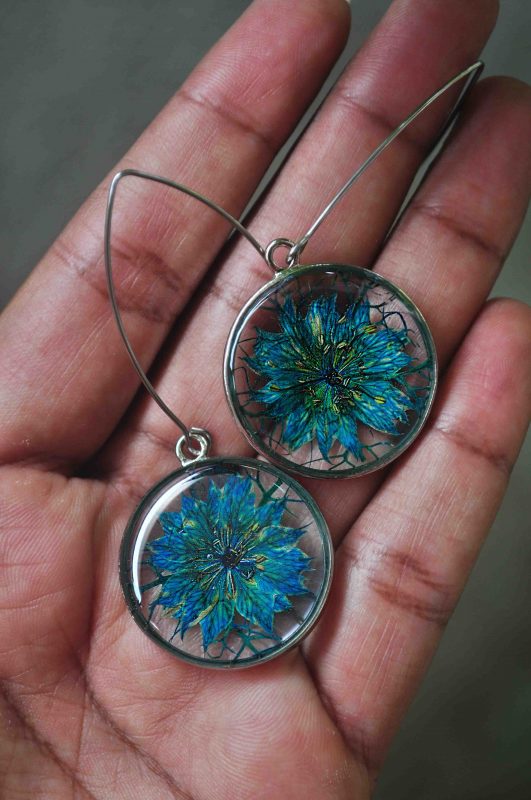 Long Awaited – Persian Jewel Magical Natural Flower Earrings
₹2,680.00
Its delicate appearance belies its hardy, dependable nature. Pale as a baby flower, Persian Jewel matures to intense shades of violet, blue, white, and pastels in between. Each flower emerges from a tangle of lacy foliage. The flowers represent strong bonds formed over time.
All the flowers in our jewellery have a symbolic* and spiritual meaning. We believe in the intent behind everything Nature provides. It is an age old belief that Nature, particularly, flora, have healing abilities. Their colour, fragrance or simply just their visual impact calms the chaos in our minds. And in this day and age when everything is moving so fast, don't you think us Millennials need this calm?
The Persian Jewel flower represent strong bonds formed over time. Hailing from the coasts of Ireland, these flowers are the most beautiful shade of Azure.
In stock
Specification
| | |
| --- | --- |
| SHIPPING INFO | Dispatched in 10 business days – After Lockdown |
| MATERIALS | brass, bioresin, sundried flowers/leaves |
| SALE DISCLAIMER | Piece may have tiny scratches. RETURNS AND EXCHANGE OF SALE ITEMS WILL NOT BE ENTERTAINED. |
| CARE FOR YOUR FLOWERS | Spot-Cleaning only. Store in pouch provided. Keep away from fragrance, water and direct sunlight. |
| RETURN POLICY | No Returns | Only Exchange | Please read return policy |
| WEIGHT | 10-12 gms |
| EARRING SIZE |   2.1 cms diameter |
| EARRING LENGTH |   6.3CM – Can be made shorter on request |
Disclaimer:
This is a handcrafted product and may have slight irregularities or imperfections such as bubbles, bumps, dents or dots. These irregularities are the result of the human involvement in the process and add to the finished products charm while ensuring you have a one-of-a-kind piece.
The brass, copper metal is lead and cadmium free, which means no allergies, or green marks.
The flowers are naturally dried and preserved to last for eternity.
Colours of the flowers and leaves will not fade. They have been dried completely, so they will not wilt.
The Botanicals used in our pieces are sourced ethically. We only use fallen flowers and leaves.
All the pieces listed are 100% Handmade. We do not buy or re-sell. We believe in the Make in India
The image is only representative of the actual piece you will receive as two flowers are NEVER the same shape, size or colour. But do not worry. There will only be mild differences.
SALE : This product is on sale because it is part of an older collection. The piece may have tiny scratches on the surface but does not deter the beauty of the botanical held within.
Please buy ONLY if you are okay with the above as exchanges and returns on SALE items will not be entertained.
Description
Reviews (0)