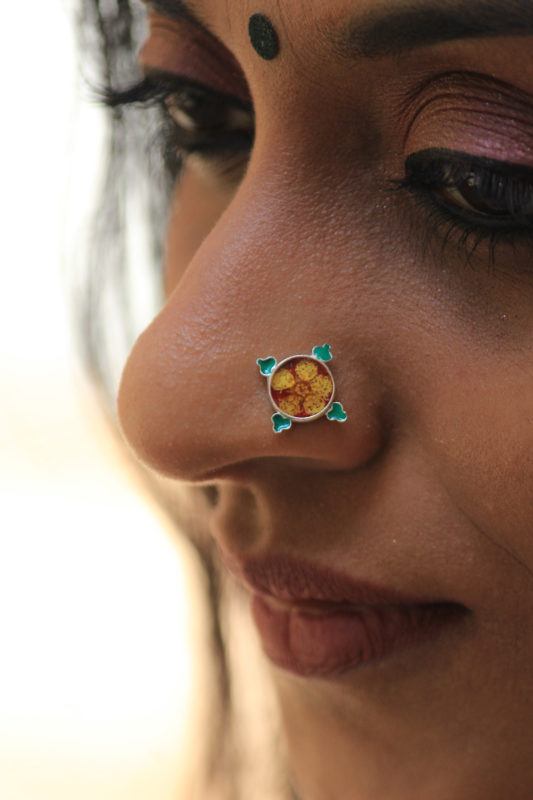 Kannagi Nose Ornament – Clip On
₹1,900.00
4000 years ago the practice of wearing a nose pin migrated from the Middle East and became a part of the local way of life in India where it holds a position of cultural and historical significance till date.
Of course the meaning and significance naturally varies in different religions and communities which is truly what makes nose ornaments so beautifully diverse.
Here we have The Kannagi Nose Pin. Also known as Mukkuthi in Tamizh, nose ornaments have adorned our women for centuries.
The stud, usually very ornate, if on the left nostril was representative of a woman's sexual health and sensuality. This came about mostly because of the ayurvedic reasoning that a woman's left nostril is connected to her reproductive organs. If on the right is symbolic of her marital status.
The colours used here are your typical Dravidan colours of emerald greens, a smooth oxidised red and that golden yellow reminiscent of the golden Pandya Dynasty. The Pandyas flourished under traders and merchants of the time who have legacies all over the coastal areas of Tamil Nadu till date.
Wear Kannagi, be Kannagi. She was a legendary woman.
5 in stock
Specification
| | |
| --- | --- |
| SHIPPING INFO |  DISPATCHED ON NOVERMBER 3RD ONWARDS |
| MATERIALS |  92.5 Silver, enamel, resin, dried botanicals |
|  RESIN ART DISCLAIMER | Piece may have tiny bubbles caused by the petals and pores. |
| CARE FOR YOUR NOSE JEWEL | Store on pouch provided. Clean with static cloth provided |
| RETURN POLICY | No Returns | Only Exchange | Please read return policy |
| WEIGHT |   1.8 gms |
| NOSEPIN SIZE |   1.2  cm |
| FLOWER USED |  Yellow Yarrow – Puthkandu |
Disclaimer:
This is a handcrafted product and may have slight irregularities or imperfections such as bubbles, bumps, dents or dots.
These irregularities are the result of the human involvement in the process and add to the finished products charm while ensuring you have a one-of-a-kind piece.
The flowers are naturally dried and preserved to last for eternity.
Colours of the flowers and leaves will not fade. They have been dried completely, so they will not wilt.
The Botanicals used in our pieces are sourced ethically. We only use fallen flowers and leaves.
All the pieces listed are 100% Handmade. We do not buy or re-sell. We believe in the Make in India
The image is only representative of the actual piece you will receive as two flowers are NEVER the same shape, size or colour. But do not worry. There will only be mild differences.
Description
Reviews (0)