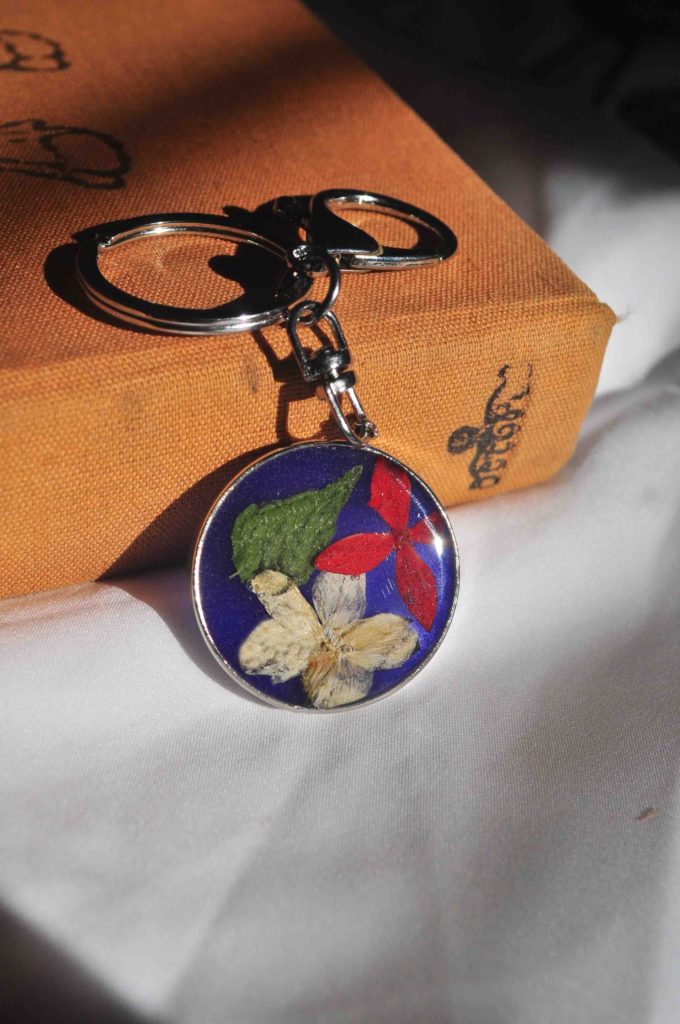 Arasan Keychain – Arasa Leaf, Malli, Vedchi – for him
₹900.00
No neighbourhood is complete without The sacred fig.
It is also known as the bodhi tree, pippala tree, peepul tree, peepal tree, pipal tree, or ashwattha tree (in India and Nepal). The sacred fig is considered to have a religious significance in three major religions that originated on the Indian subcontinent, Hinduism, Buddhism and Jainism.
Locally, known as Arasamaram, this tree is a pleasure to sit under. The wind rustles its leaves ever so beautifully and minis the sound of crashing waves. it is a truly therapeutic experience.
Out of stock
Specification
| | |
| --- | --- |
| SHIPPING INFO | Dispatched in 5 business days |
| MATERIALS | Brass, Resin & Preserved Flowers |
| CLOSURE/HARDWARE TYPE |   Lobster Clasp and Keyring |
| CARE FOR YOUR FLOWERS | Spot-Cleaning only. Store in pouch provided. Keep away from fragrance, water and direct sunlight. |
| RETURN POLICY | No Returns | Only Exchange | Please read return policy | Refunds as Coupons |
| WEIGHT IN GRAMS |   4.2 grams |
| MEASUREMENT IN CMS |  6 cms x 3.4 cms |
| FLOWERS USED |   Mulla, Arasa leaf and Ixora |
| GEMSTONES USED |  Blue Enamel Colour |
Disclaimer:
This is a handcrafted product and may have slight irregularities or imperfections such as bubbles, bumps, dents or dots.
These irregularities are the result of the human involvement in the process and add to the finished products charm while ensuring you have a one-of-a-kind piece.
The brass, copper metal is lead and cadmium free, which means no allergies, or green marks.
All the pieces listed are 100% Handmade. We do not buy or re-sell. We believe in the Make in India
The image is only representative of the actual piece you will receive as two flowers are NEVER the same shape, size or colour. But do not worry. There will only be mild differences.
Description
Reviews (0)