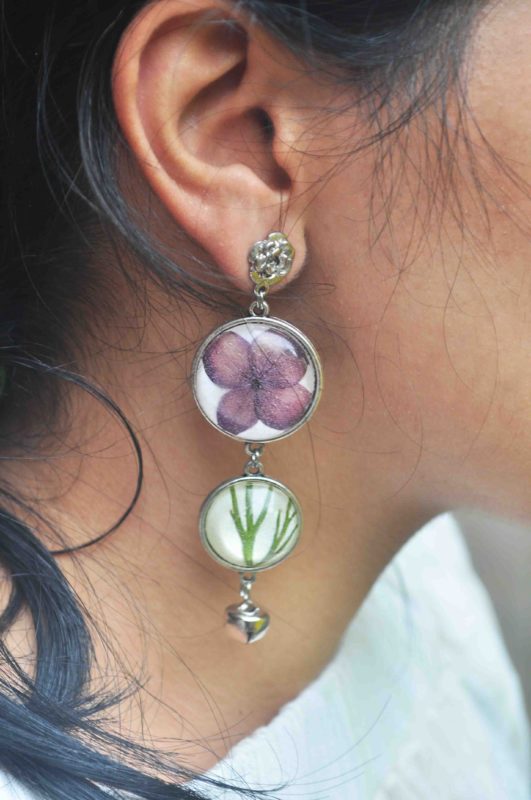 Amethyst Purple Hydrangea Droplet Earring
₹1,050.00
The name "hydrangea" was first coined in modern Latin in 1753 by Linnaeus.
The word is a compound of the Greek words "hydr" (a stem of the word "hydor," which means water) and "angeion," which means "vessel."
Purple hydrangeas, halfway between pink and blue shades, generally symbolize a desire to understand someone on a deeper level.
The color purple is also representative of wealth and abundance, so a purple hydrangea can also represent prosperity.
In stock
Specification
| | |
| --- | --- |
| SHIPPING INFO | Dispatched in 3 business days |
| MATERIALS |  Brass , bior-esin, sundried flowers/leaves |
| CLOSURE/HARDWARE TYPE |  Stud / Hook |
| CARE FOR YOUR FLOWERS |  Spot-Cleaning only. Store in pouch provided.   Keep away from fragrance, water and direct   sunlight. |
| RETURN POLICY |  No Returns | Only Exchange | Please read   return policy |
| WEIGHT |  2 gms per earring |
| MEASUREMENT |   7 cm drop |
Disclaimer:
This is a handcrafted product and may have slight irregularities or imperfections such as bubbles, bumps, dents or dots.
These irregularities are the result of the human involvement in the process and add to the finished products charm while ensuring you have a one-of-a-kind piece.
The brass, copper metal is lead and cadmium free, which means no allergies, or green marks.
The flowers are naturally dried and preserved to last for eternity.
Colours of the flowers and leaves will not fade. They have been dried completely, so they will not wilt.
The Botanicals used in our pieces are sourced ethically. We only use fallen flowers and leaves.
All the pieces listed are 100% Handmade. We do not buy or re-sell. We believe in the Make in India
The image is only representative of the actual piece you will receive as two flowers are NEVER the same shape, size or colour. But do not worry. There will only be mild differences.
Description
Reviews (0)